Tom Ye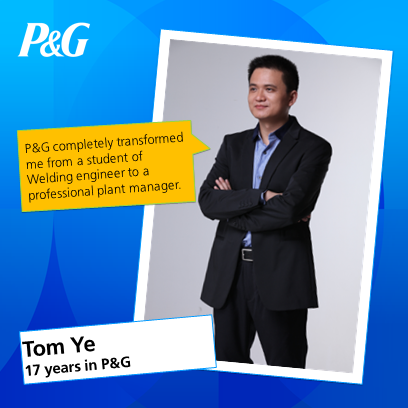 P&G completely transformed me from a student of Welding engineer to a professional plant manager.
When I joined P&G many years ago, I was little bit confused that what could I do in a consumer goods company as my first job was the process engineer in a surfactant making department in Huangpu plant. It's not related to my major in university, which my professor was truly regret about it. Several years later, when I looked back, I was so inspired by the training and development program P&G provided, which helped all of my peers become knowledgeable, skillful and successful managers in different position, i.e. a Plant Manager to run a plant with billion of NOS like what I am doing, AD of a business unit to run business with commercial partners, or Professional Engineer Leaders to manage 100MM$ capital spending per year. You will find you can learn and grow to become a person you want to be. 
As a plant manager, I enjoy my work every day. It is my dream to lead a team to deliver the best in class results by unleashing the power of everyone. P&G made my dream come true. My line managers in my whole career helped me understand my strengthens and opportunities, they coached me to fully leverage my strengthen to move forward. There were so many touching events here which will be the best memory in my life. In order to develop my skills to stand out and effectively work across cultures, I was sent to US for training and practice three times in a year by my line manager; It was a key discussion points between me and my line manager in our One To One about how to help me extend my influence cycle, instead of business results review; my line manager always stands with me when there are any tough situations to handle. I am sure you will never find a place like P&G, find managers like P&G managers to spend huge efforts develop new leaders and treat your success as their success. 
Now when I stand in the workshop watching the products moving to the line end. I am so proud of what I can do to contribute to Chinese consumers. I was leading HC supply chain to producing 40% of conditioner, 30% of shampoo for 1.3 billion Chinese consumers. All products I made I had full confidence on the quality. I was the QA manager in plant and a manufacturing leader I knew how our people run to target to secure the quality. This makes me feel my value in the society. When I stand in the workshop looking at the smile on operators' face. I am so proud that my daily work can either make them feel engaged or make them feel enabled. I return what I learned in my career to the people I work with. This is the best experience for a leader. I love it doesn't matter when I led 10 persons many years ago or leading hundreds of people today.  
I really appreciate what P&G invested on me and made me be a person today. It is not the only story you will learn in P&G. I am sure you will find your personal vision achieved in P&G soon. Come join us!