Fanny Fan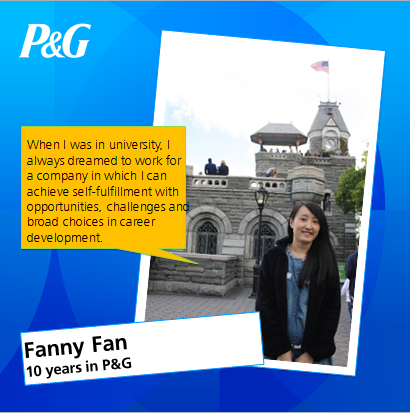 When I was in university, I always dreamed to work for a company in which I can achieve self-fulfillment with opportunities, challenges and broad choices in career development. Marching towards my 10th year in this great company, I am happy and proud to say that it has never been only a dream in P&G Product Supply. It's a wonderland and where your dreams will come true. 
From my early years in P&G till now, I have been impressed about how P&G places leadership responsibilities and challenges to each individual so that we can grow faster. In the past two years as Initiative Program Leader, I had chance to work closely with General Managers and lead senior managers from multi-function team, including Marketing, CMK, Finance and R&D, etc., for "Whisper (护舒宝)" brand, in order to discover, design, plan and execute all the exciting new product launch to our consumers. This is just one of many examples! 
P&G is a global company. It's not only reflected in its global brands, operations and footprints, but also in the global culture, working environment and career opportunities, especially in Product Supply.  I have been working for bosses from different countries like Italy, Germany, Columbia, Venezuela, UK and US, etc. Beyond that I also have diverse working partners from Yugoslavia, India, Korea, Japan and Singapore. It is extremely interesting and I enjoy a lot working in such an international community to learn and build the partnership and friendship with people from different cultures. 
P&G Product Supply has created one of the best-in-class supply chains in the world. I am honored to learn and contribute here from my end-to-end experiences working with suppliers, our own manufacturers, customers and even consumers. It has equipped me with broad and holistic supply chain knowledge so that I was appointed (and I am thrilled!) to work on the strategic supply chain design for Asia Feminine Care. 
P&G brings me more than above in my life. I encourage you to embrace this wonderful company, and taste the exciting world of career together with me, and all other P&G'ers. Come join us!