Byron Zhou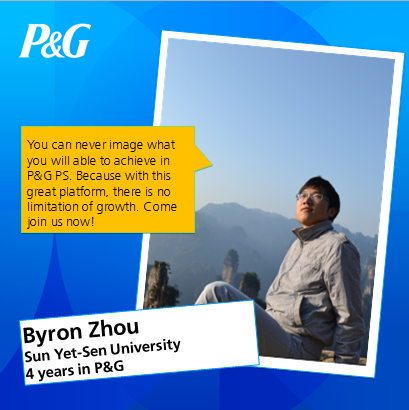 To me, the P&G PS internship provide a great opportunity to get in touch with the real business work in a global way. Like the 1st day in Engineering discipline, we were coached to leverage this global platform to drive the business moving forward. The engineering teams were sitting around the world, from Cincinnati in the US to Frankfort in Germany, from Brussels in Belgium to Guangzhou in China. These culture diversity generates great ideas and then turned into impressive innovations. Everyone here was encouraged to move around to a different environment to keep learning and grow. As a result, you can always see Chinese faces in whatever assignment around the world. 
Leveraging this global platform, Engineering is leading the business change all over the world. In Asia, we see more and more amazing automatic technology was or will be developed to improve the productivity of the production. In Europe, we see the booming innovations to create different fascinating packages to fulfill consumers' needs. In North America, we see the coming standardization which will transfer all the production around the world into one form. In this age of change, Engineering is standing in the front and willing to take the challenge. 
I joined the summer internship program 3 years ago and have been giving a lot of great opportunities to develop myself and help the business success. I have helped launching an amazing new initiative of OLAY, which allow me to have a glimpse on the secrets behind the innovation. I used to sit down with the leaders to discuss the future of the business, what strategy we could choose to achieve better future. I also became a part-time "HR" coordinating the whole GC recruiting of Engineering. And sometimes, I turned to a director to shoot a touching micro-movie, telling people what we are doing and what we will do in the future. And now, I am starting in a new assignment in a small town in France, trying to learn French and enjoying local "slow pace" culture.
 You can never image what you will able to achieve in P&G PS. Because with this great platform, there is no limitation of growth. Come join us now!